I am happy to announce that we will be having another bookmark contest this year!
Get creative for a chance to win a prize and have your artwork printed and available in the library! But hurry, the contest will end February 29th.
I have been so amazed and impressed by the level of talent here at MEI!! This will be our fourth bookmark contest. There are usually so many awesome entries that the judges have a hard time picking the winners.
The Rules… maximum size: 2.5 inches by 7 inches. Must be able to be scanned. Submit as many as you would like. Make sure your name and grade are on the back!
There will be 1st, 2nd, and 3rd place prizes for hand drawn bookmarks and a 1st place prize for digital bookmarks. The winners for this year's contest will be announced after spring break. Check out the previous winners…
2013
2012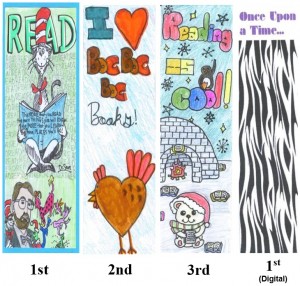 2011